Discussion Starter
·
#1
·
Hello Everyone,
Just wanted to post my experience about changing my front brakes just in case anyone was curious...
The Front Brake PRCode for my car is 1LJ.
Parts used:
Brembo Disc Xtra Part # 09.9772.1X
Brembo Pad Xtra Part # P85146X
Brake pad Brembo P 85 146X for AUDI, SEAT, SKODA, SKODA (SVW), VW, VW (FAW), VW (SVW)
www.bremboparts.com
New Front Caliper Bolt Part # N90948802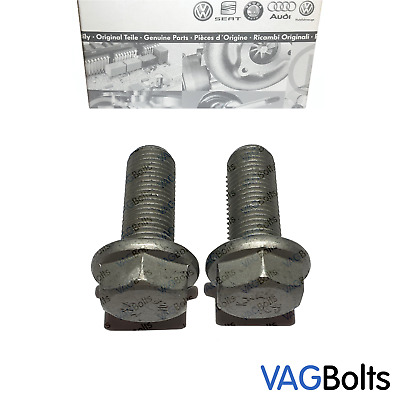 Front brake caliper carrier bolts. You will receive 2 bolts as pictured. There are 2 bolts per brake caliper carrier, so this will do one side. These bolts are usually removed when replacing the front brake discs.They are commonly rusted and require considerable force to remove, they should...
I torqued the new caliper carrier bolts to 200Nm and the caliper guide bolts to 30Nm. (Source: Haynes Online Manual)
In general the job was fairly easy. Only the driver side rotor was stuck on the hub, but after a few firm swings of a big hammer, it popped loose. Luckily, the screws (T30 Torx head) that hold the rotor on the hub weren't difficult to remove. The replacement screws that come with the Brembo rotors are large philips head screws which I prefer and are less likely to strip in the future during removal. I used a wire brush to clean up any rust and corrosion on any important contact surfaces prior to replacing the new rotors. To help aid myself accessing the caliper carrier bolts to remove and replace them, I rotated the steering wheel to the far right when working on the right and rotated the steering wheel to the far left when working on the left. Also, when replacing the wheel bolts, I torqued them to 120Nm.
Photos Here:
Overall, I'm happy with how well they are performing so far. The prior pads were a little more than half worn and were OEM Audi pads and rotors.
If anyone has any questions about my experience, feel free to ask me.
Cheers!