Discussion Starter
·
#1
·
A few weeks back I bought some Defi gauges from the "For Sale" section on here. They came with the O-pods and wiring harness but no adapters for the sensors.
I was working in Manchester at the time, so I dropped into Awesome and frankly, they were hopeless. First they made me feel like a cheapskate because I'd bought something used and then they made me feel like an idiot because I didn't know the threads and dimensions of the sensors so they couldn't even order me the adaptors even though they theoretically sell them.
I called Demon Tweeks (who supposedly have a fitting service and sell the adaptors and gauges) and they said "Oh no, that's pretty complicated, we wouldn't want to take that on" and then I tried about 5 other places that you would have thought would do this sort of thing, but no-one wanted to do it.
Eventually, I was moaning about this to Rob at Shark Performance and he said "Why didn't you ask us? We don't just do remaps you know" so I literally threw him the box of bits and was very upset he couldn't fit them there and then. Well, after a bit of to-ing and fro-ing and lots of looking at the pipework under the bonnet he got me in yesterday to get them fitted. Apart from a small hitch with orientation of one of the adapters (which he sorted) he had them in in double quick time and I'm very pleased indeed.
They are pretty unobtrusive when the car is switched off.
They look very much part of the car.
And then when they start up (they do a little dance and a needle sweep) they look very much OEM.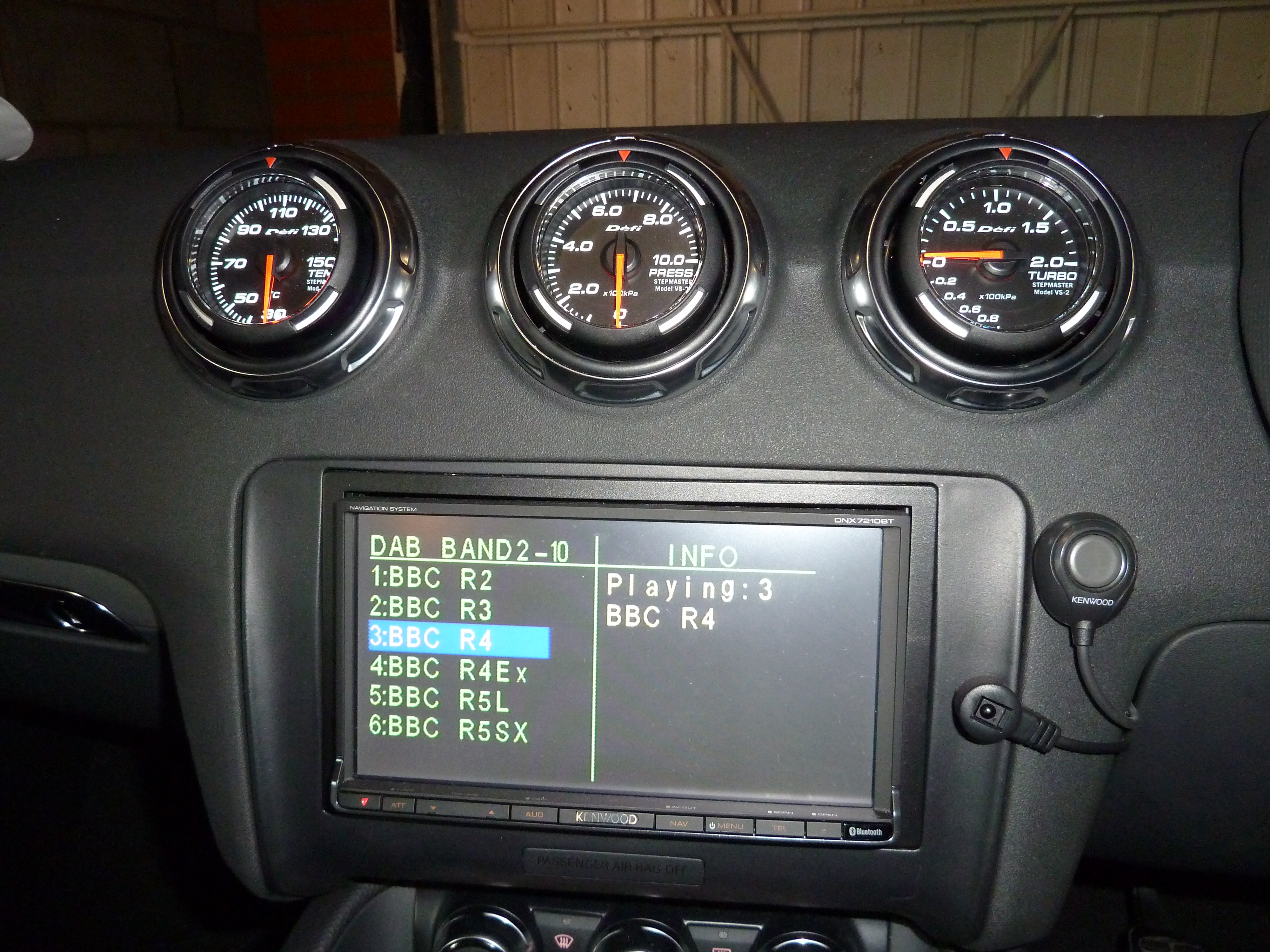 The colour match on the gauges and the needles is excellent.
and it's great fun watch the car over boost then settle in when you accelerate hard and it's really scary seeing how long it takes the oil to come up to temperature (almost 25 miles of normal driving). I wasn't expecting the oil pressure to go up and down with engine load, but apparently that's normal too.
I just wish I'd gone to Shark in the first place and saved my self the effort of messing about with a bunch of folks who just want to sell you something or will only install something new or easy. I'd like to thank Rob and Ben for taking the time to do something a bit out of the ordinary.