TTS Vegas Yellow • M5 Sapphire Black
Discussion Starter
·
#1
·
I GOT IT! I GOT IT!
Paperwork came through and the car was released and ready for pick up at 12:00 so two trains later I picked it up from Dundee Audi!
After a 2 hour motorway drive in the rain, its far to dirty to take pics but I'll get some up at the weekend.
My boss let me leave early and even dropped me at the train station.
I HAVE ARRIVED!!!!!!!!!!!!!!!!!!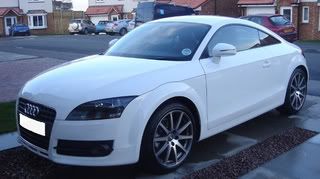 Still havent managed to wax it yet. Just washed it and conditioned the leather inside. Will get some better pics up next weekend, hopefully.