Discussion Starter
·
#1
·
Exterior mods
19" BBS CH/Porsche twists
V6 front bumper + smoothed out
LCR splitter
Gloss black grilles
V6 valance
Black vinyl wrapped roof
Black vinyl wrapped petrol cap
Window tints
Laminex rear tinted lights
Front flip up number plate
LED rear number plate bulbs
8k xenon's
LED halo angel rings
Smoked corners
40mm Apex springs
'Quattro' wing mirror sticker
Red painted calipers
Performance Mods
HG motorsport front mount intercooler
Relentless high flow maifold
XS Power 3" down pipe + sports cat
Miltek exhaust system
SFS 3" TIP
Neuspeed induction kit
Forge 007DV
APR Stage 2 Remap
N279 delete
Uprated dogbone mount
forge catch can
Debaffled Charge pipe
Inline walco fuel pump
Powerflex bushes
Cookbots
Uprated intergrated engineering rifle drilled rods
Calco bearings
Siemens deka. 630cc injectors
Engine bay mods
Powdercoated strut brace
Powdercoated rocker cover
Polished turbo charge pipe
Polished/painted inlet manifold
Red hose kit
Red upper boost hoses
Red Turbo pipe
Red intercooler pipe
Porsche oil + coolant cap
Flocked battery cover + coolant bottle cover
Bling kit
OG chrome dipstick
Aluminium dipstick holder
OG inlet manifold cover plate
Interior mods
Carbonfibre wrapped handbrake/ door handles
Sony headunit
Liquid TT gauge
Red leds in air vents
Red led footwell lights
White interior lights
Sub + amp
Custom QS rear sear delete
Ive been on here a while now, owned the TT just over a year and got to know a fair few people. Ive have had a few people ask if i had a progress thread to which i had to reply not really :roll: . So decide to do one as my last 1 on my cliosport was quite successful. Bit about me, i was 20 (now 21) when i got the TT having owned a a clio 1.2 from passing at 17 which was turned into a cliosport and i even put a 2.0l engine which didnt go down to well. So i cut my losses and got rid for the TT i have today.
This is how i got her. Had a few mods already, like 'miltek' exhuaust, autobahn88 tip, Rs6 Alloys, Rear headlight tints, Front headlight tints, black vinyl wrapped roof/fuel cap, Lcr splitter, turbo badge instead of audi rings, red calipers, V6 spoiler, V6 rear valance, 3 bar grille.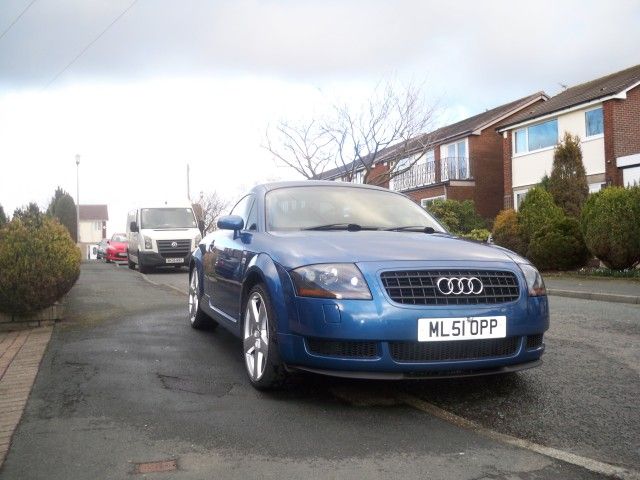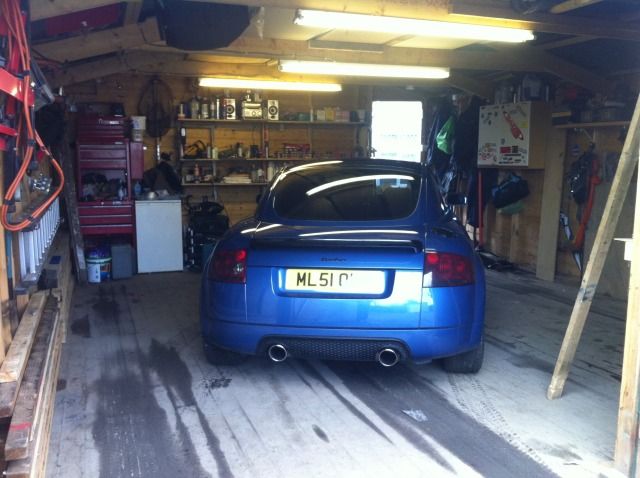 First thing to do was put my reg on to hide the fact its over 10 year old haha.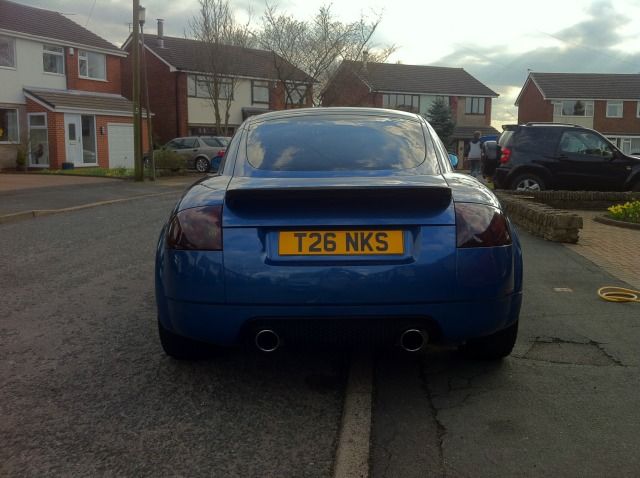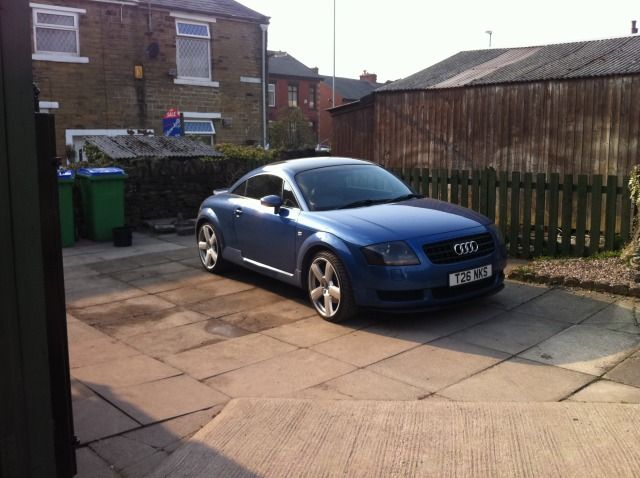 Next up was some cheap halfrauds special number plate LEDS, worked a treat and have been spot on ever since.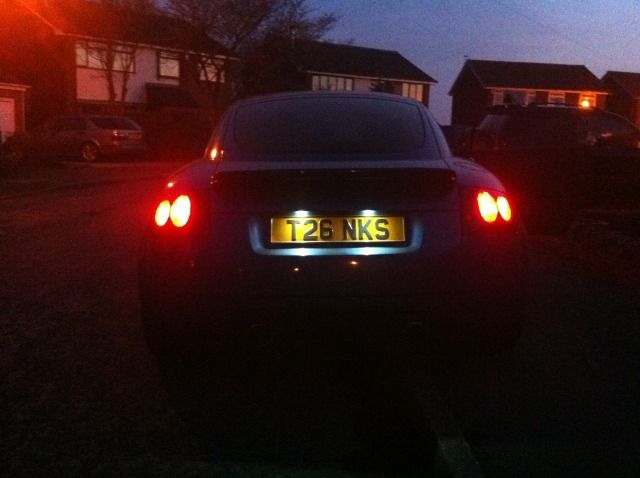 Im only young and a i like blue so fitted some 8k xenons which wont be to everyones taste but it makes me stand out :lol:
Then came some interior mods, i put my sub in the boot that was in my clio. Also wrapped a few interior parts in 3M carbon fibre.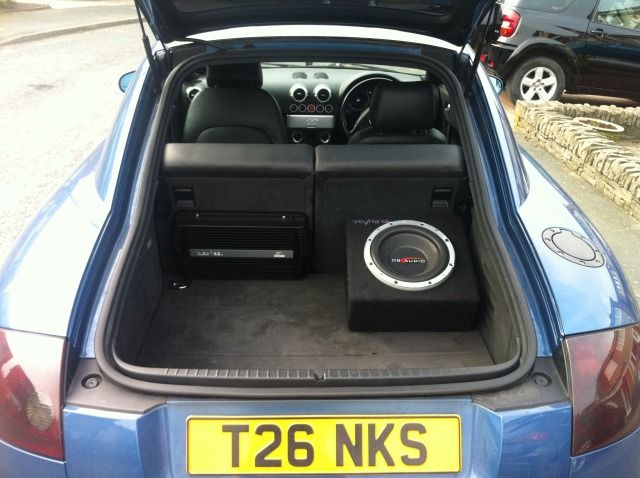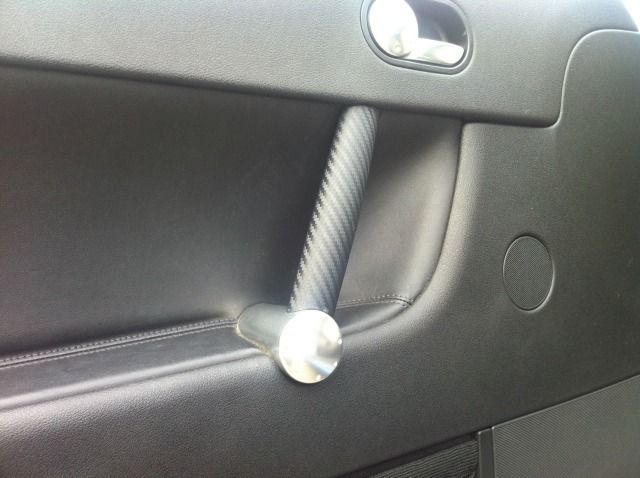 Quick picture of my poor little clioand the TT, Both fantastic cars. Clio got stripped and sold in parts in the end.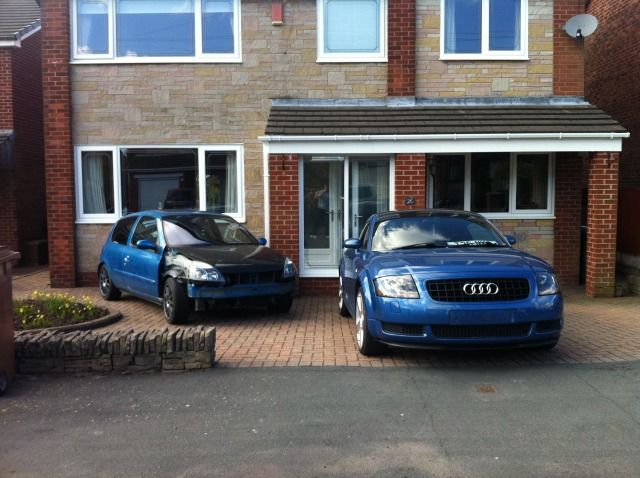 Next up was to tidy up the bodywork so out came the bucket and wax. Gave her a good wash, clay, polish and wax.
Next was to look at the engine bay, so added a bling kit, polished a couple of parts, painted a few other parts and this was the result.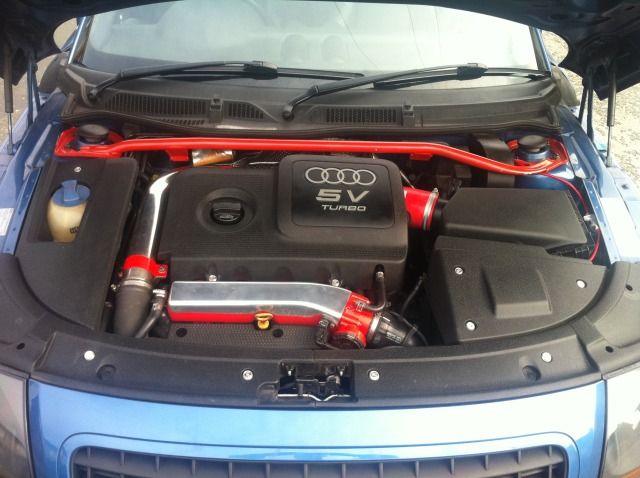 Became a TTOC member and decided to share it with the world.
I then came up with a CRAZY idea of flocking the engine bay to be 'different'. This resulted in a very OTT engine bay which i know alot wont like but hey ho, its my car :lol:
I also added a neauspeed induction kit and forge DV from awsome.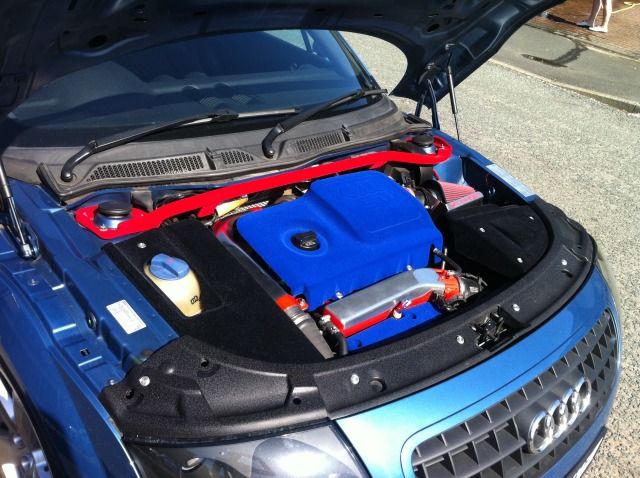 Next up was the wheels, im not a fan of big spokes so saw some genuine BBS ch's in the for sale section. So i travelled 3 hours down to bristol to meet markypoo and came home with my mate as a passenger ( big lad) squashed in the car with 4 big 19" Ch's
He wasnt impressed with the space but was definatly worth it in the end.
Trax soon approached fast so got myself on a mates stand and showed her off.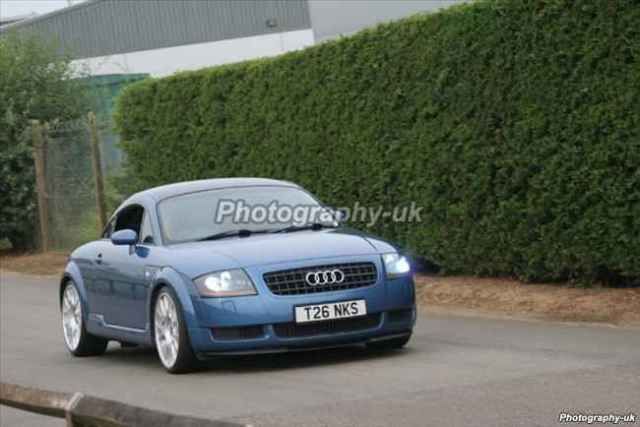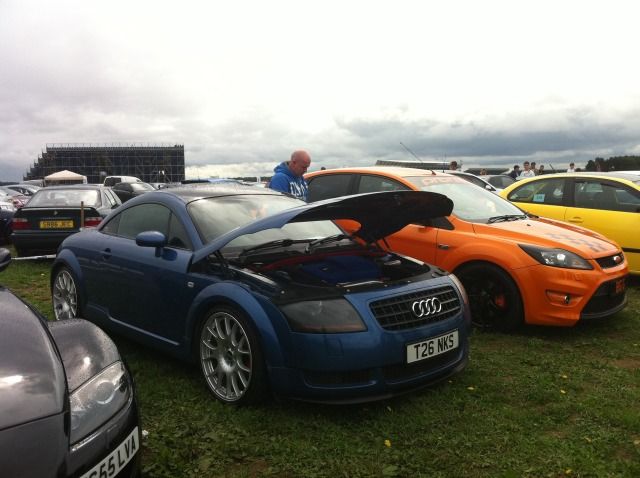 Next up was a little mod which i saw on here which i instantly fell in love with, albeit very cheap/minor mod. Quattro stinker on the wing mirrors.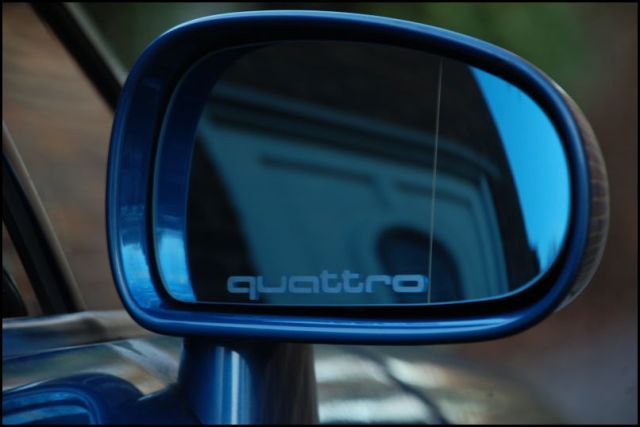 I kept looking at the front and something just wasnt right, i wasnt happy with the shape so i decieded to spalsh out for a v6 front bumper, Travelled another 2 hours to pick it up from newcastle and then dropped it straight into the bodyshop. I thought id be different again and smooth the front number plate out so got that done at the same time.
Whilst in the body shop i sprayed the front grille myself with plasti-kote super gloss to give it a nice shiny look.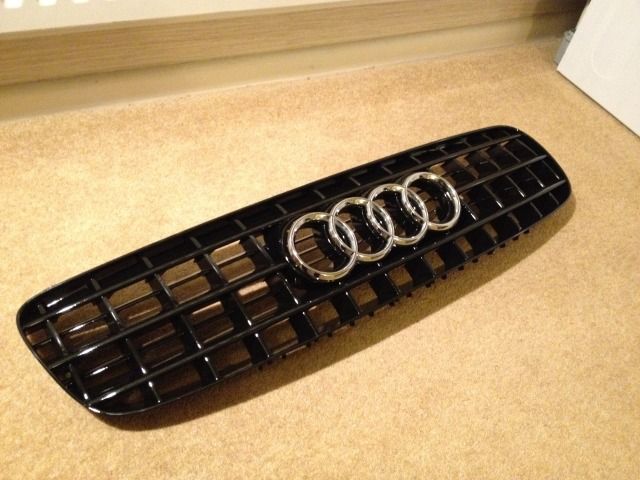 Bumper came out the bodyshop and straight onto the car, with out the bottom grilles which i hadnt sourced yet.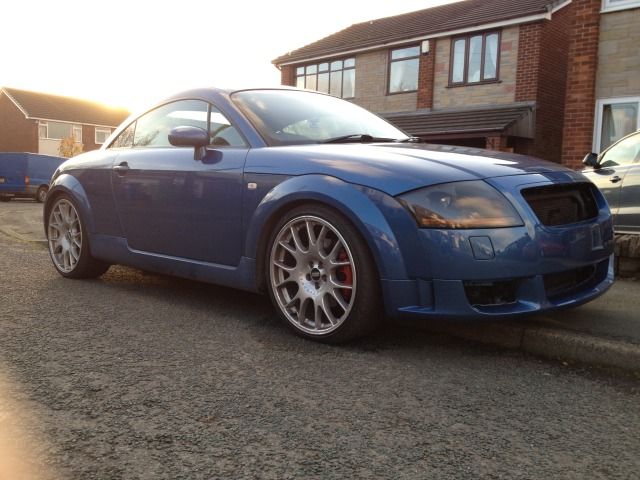 3 bar grille refitted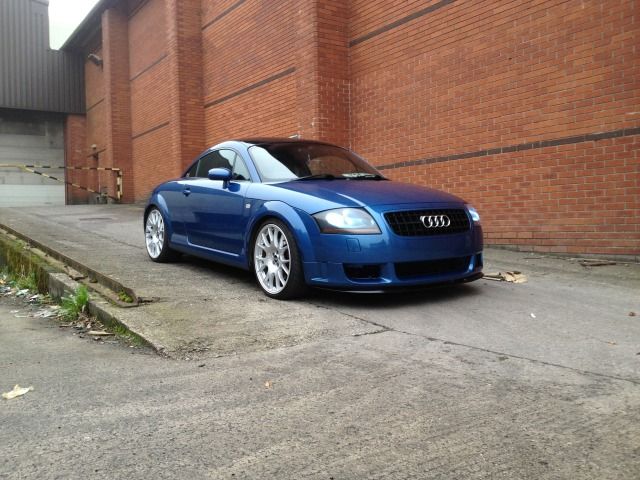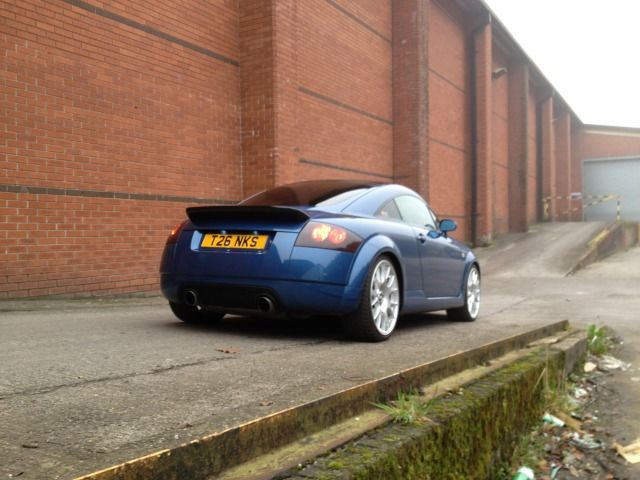 Next i needed something so the rozzers didnt pull me for no number plate, i saw another forum member cars who wanted to be james bond and decided i did aswell, so i purchased a remote control flip up number plate ( picture is with the old number plate until i purchased a american sized plate)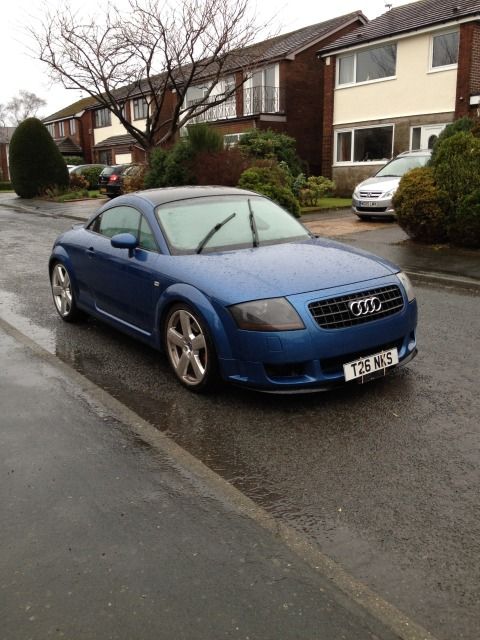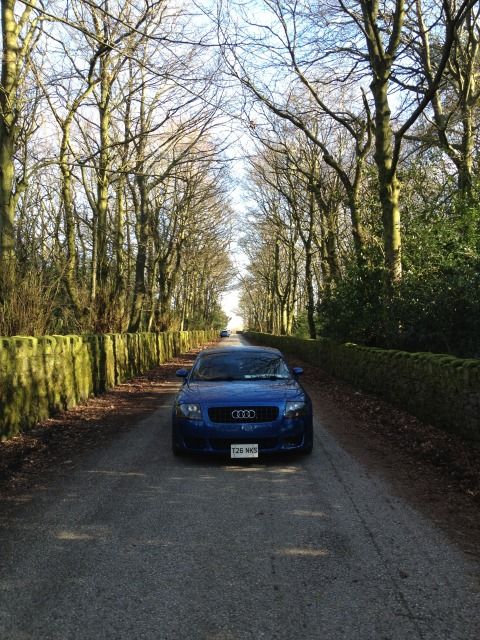 Next up was the replace the WORST centre section to a exhaust ive ever seen, a miltek back box but clearly not a miltek middle section. So got onto awsome gti and got a miltek centre section off them. ( if you like nice exhausts you may want to look away now)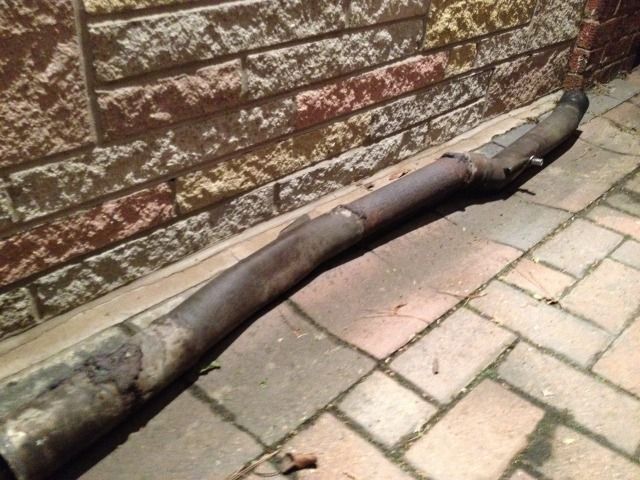 I then looked for weeks upon weeks for a downpipe that was affordable and a decient price, i found the XS power 1 for very cheap over in america which, if you dont know, have had some very bad reviewsbut i emialed them and they said they had sorted these problems out now. With no1 wanting to be a guinea pig i decided to take a the pludge and get one. It went on perfectly and i havent had a problem since and was over half the price other companys charge. I also change the dogbone mount as advised on here.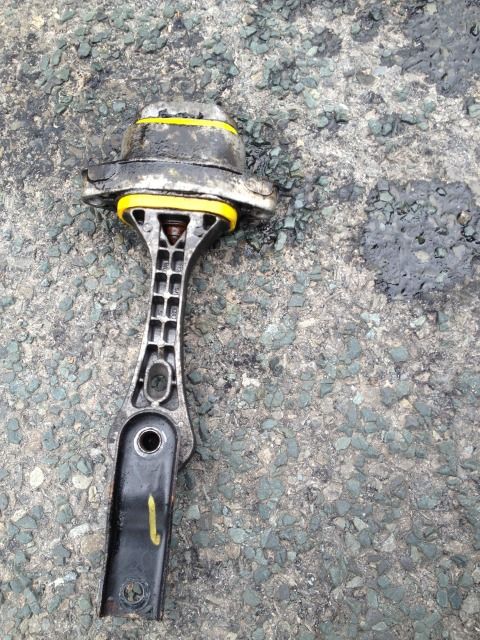 Next up came a Liquid gauge in the for sale section off graham, love_iTT ( great guy).
I then bought some of the cheap Angel eye leds from bong kong and thought whilst i was splitting the headlights i would spray my indicator lenses so the orange wasnt in your face no more.
this was all taken place just before ulitmate dubs so took my flip up number plate off and cable tied a plate to the grille just to get down there.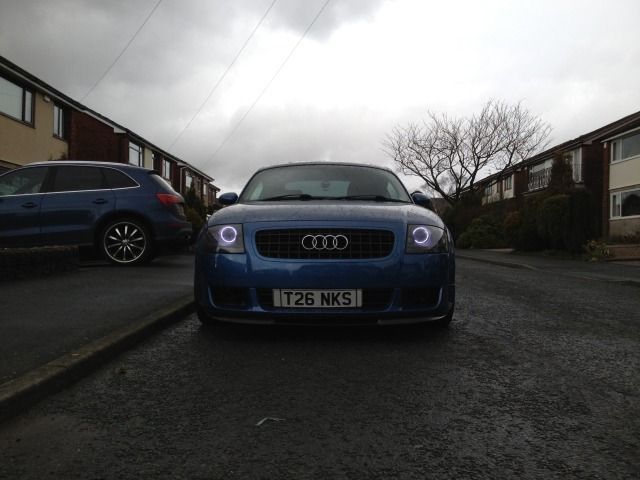 Ultimate dubs was great, had a great time and met some great people.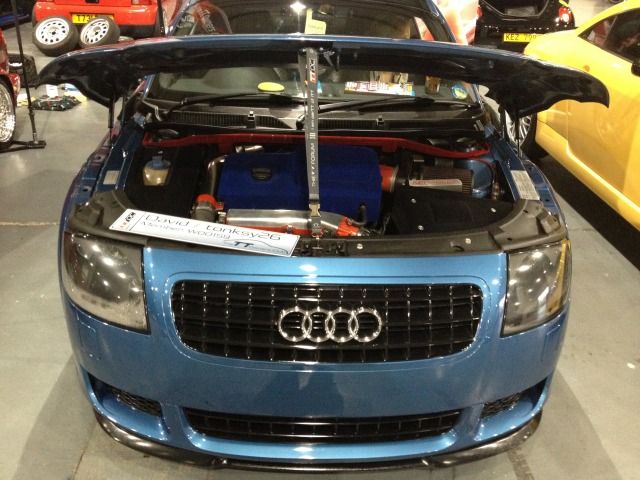 Another quick snap on my neighbours drive that i like to show where its at at the moment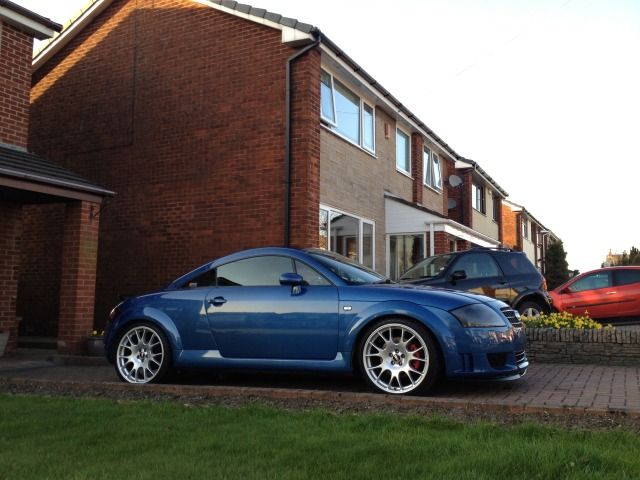 A few backs i found a coolant leaking somewhere so had a look about and found the culprit. So changed that over.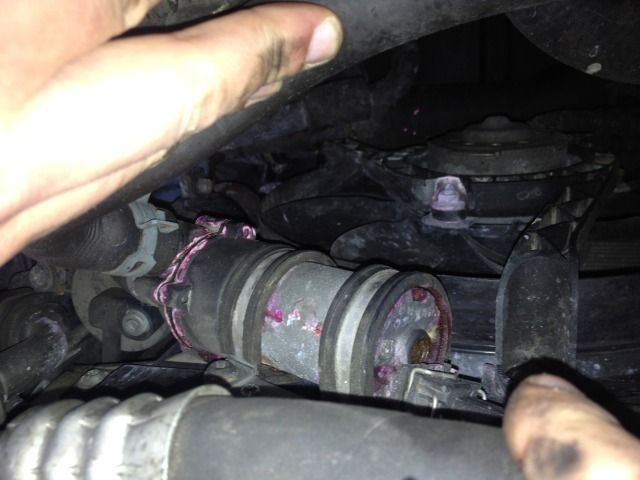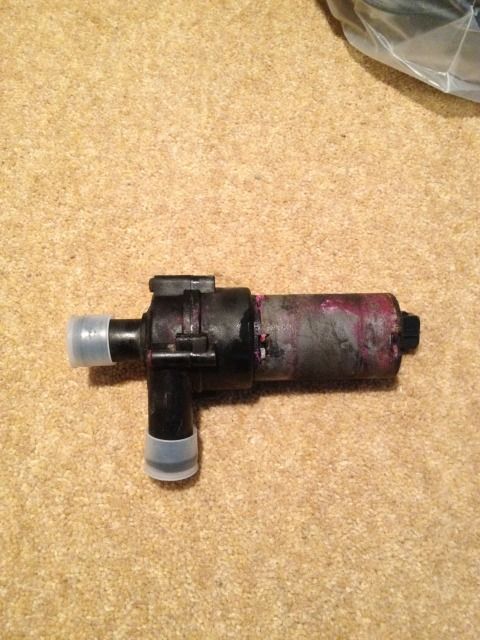 After buying a the downpipe i had made the decision that i was going for the full works and get a stage 2 and try to get as close to 300 bhp as i could. This ment upgrading the smaller autobahn88 tip to a 3" SFS tip and start looking for an intercooler which will be purchased next week in the group buy.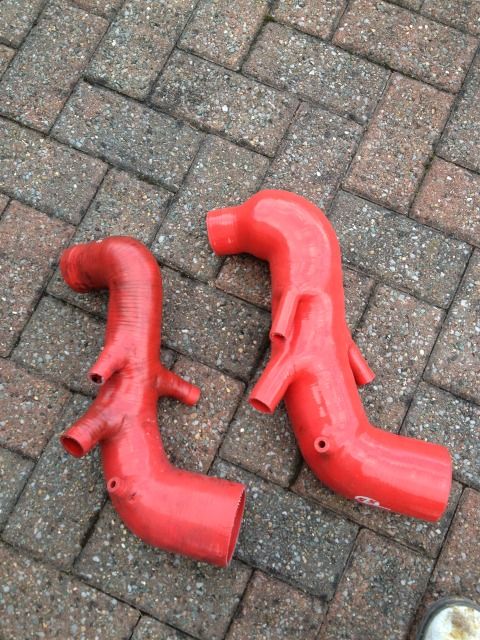 Today i replaced the coolant bottle for a brand new one, quick easy 10 minute job but quite effective and i can now read my coolant level.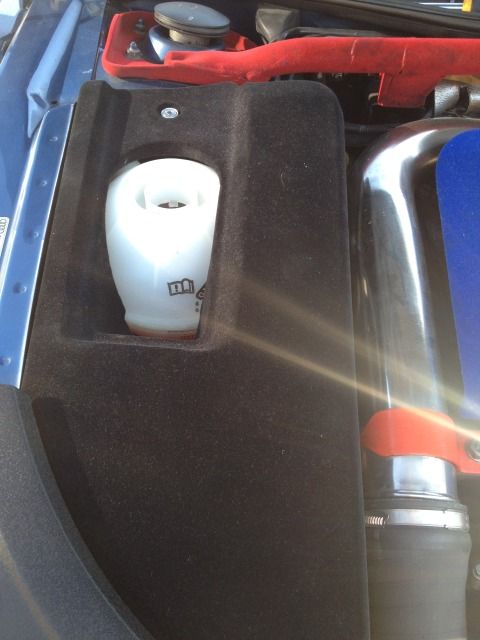 So that brings me pretty much up-to-date now, as said abit further up, in the next couple of weeks i shall get the intercooler, and then a stage 2 remap in about a month (hopfully when awsome gti have a remap sale on). Im also looking at getting some 20 mm spacers on the back and 15 mm spacers on the front. The engine bay at the moment is al back together at the moment but i want to do a few changes to it still as im not happy with the big blue engine cover, its going to be toned down quite abit. Also have the porsche oil and coolant caps to come when they come in from the group buy.
I can now keep tabs on what i get up to and shall update this when ever i mess about with something.