Discussion Starter
·
#1
·
This is going to be a long ranting post everyone so be prepared!
Well its been an eventful weekend for me so far. It was my mates stag night yesterday and we started off the day with a Paintball session (damm those things hurt!) Anyway we were all meeting up at his house in Inverness. So i pull up at his house and get out of my car and make my way to his door and he greets me with a shocked look on his face and says what's happened to your car??? I said what are you on about and he said err the big dent in your wing? Im like aye aye whatever and he is like no seriously. By this time im starting to get nervous and am scared to look round at my car. I calmly turn round and could see a dent but i found myself saying no no no its just a reflection/shadow as we walked up the damage got worse and worse and worse. Big dent in the wing and completely scratched and scuffed to a height of about 20 cm The corner of the bumper is all scuffed too! :x . By this time i was not a happy chappy. I have had a few days off and the car has basically sat at my flat. I washed the car on Thursday afternoon and the damage was not there so it has happened between then and Saturday morning. I had not noticed the damage as i always reverse into my space so when i leave the flat i always approach the car from the back. By this time i was in no frame of mind to go paint balling i was more hacked off at the fact that somebody could do this my pride and joy and simply drive off!
My Insurance has a £250 compulsory excess and a £250 voluntary excess and i do not have protected no claims so at this point i was fizzing as its going to have to come out of my pocket when its not even my fault! And the cars going to cost me a fortune this month new Alien £72, oil and filter change £50 and the car is also booked in for cambelt and water pump plus MOT on Wednesday and the Dent Devil guy is going to trying to sort my door when its in at the garage! and now this to fix on top of all that! [smiley=bomb.gif]
Here are a couple of pics of my poor TT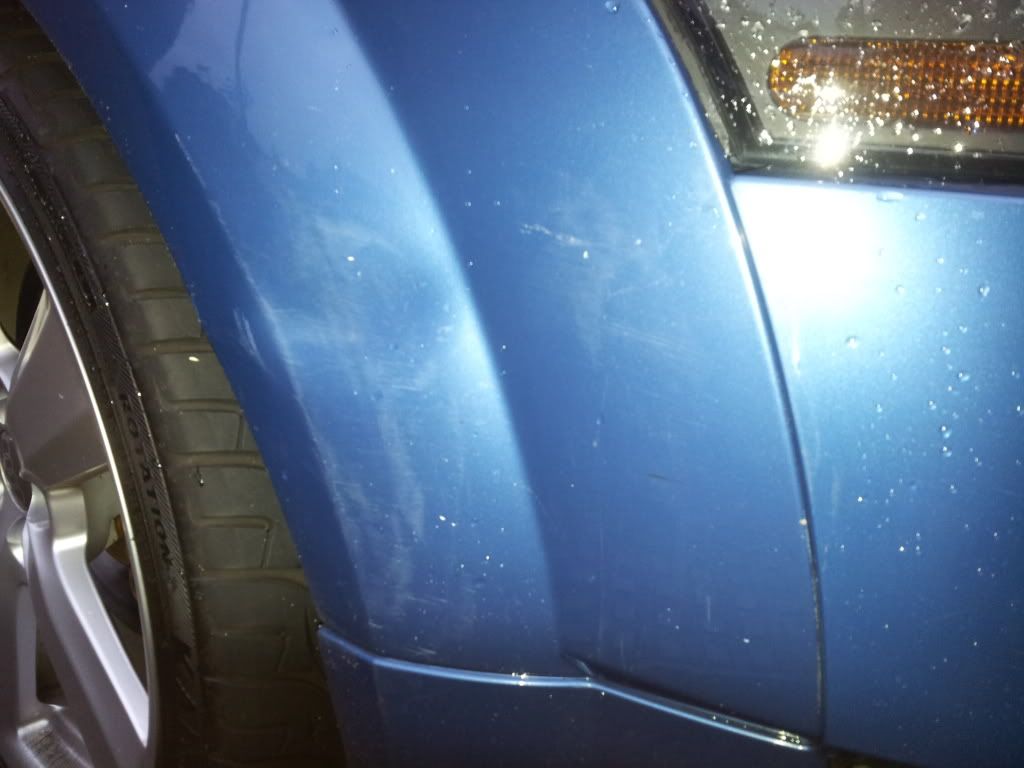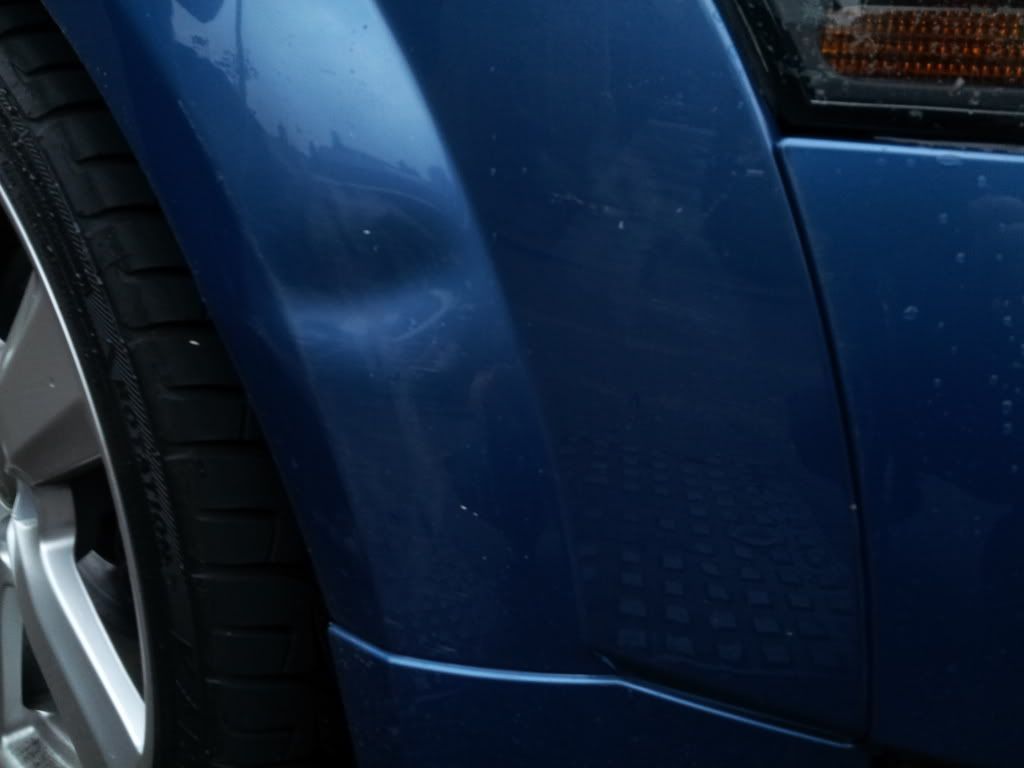 So After paintball i headed back to Nairn and decided to pop into the police station to report it and also to get an Incident number for the insurance (just to cover myself) They said have you asked any neighbors etc if they saw anything and at that time i said no as i went straight to the police station on my way home.
I had to get back through to Inverness for the meal for the Stag do in a couple of hours but decided to knock on some doors when i got home to shower/change. I popped in to see the old lady in the flat above and she took me in and i explained that i had just been down to the police station to report that my car had been hit and asked if she had seen/heard anything as i new that the damage had occurred at the flat. She then said well its funny you should say that Mrs XXXX came and picked me up to take me shopping on Friday morning i got into her car and the first thing she said to me was i think i just had that car! She then said they both got out and the lady in the flat above points to the damage on my car and the driver said Oh no i could not possibly have done all that! They then simply drove off! [smiley=bigcry.gif]. Bit of a coincidence i have fresh damage to my car and this lady thinks she hit my car, saw the state of it and then says oh no i couldn't have cause all that damage!
Moving on the lady in the flat above said i will call her to say you just popped in to say your car has fresh damage and i will see what she says. She called me back a little while later and said the lady is going to pop round with her car on Sunday for me to have a look at it but she is saying she has looked at her car and can see no damage! Well true to her word she did come round this morning in a silver Nissan Micra. I new the damage to her car had to either be the offside front bumper or the neerside rear bumper due to the way my car was parked. Well i checked the front bumper first nope no damage. i then went round to the rear bumper and look what i was greeted with!
Quite hard to see in the pictures but the damage to her car goes all the way to the corner of her bumper and surprise surprise the height of the damage is roughly the same as mine 20 cm! I pointed out the damage to the car and she said well that is the corner that i thought i might have hit your car with! She then said well i must have hit your car then im very sorry. Her husband who was with her today said get a quote and we will pay for the damage to you car. I think they are thinking that all my car needs is a blob of filler and a t-cut for £50! I reckon thats going to be a new wing and bumper repair probably more like £500! I got her insurance details and said i will get a quote and then give you a call and if its too much then it can go through her insurance company which they agreed to. I called my insurance company today and explained the above and they said thats fine with them and if its too much then they will open up a claim for me and it will be done through there insurance company with no cost to me or my no claims!
I am still a bit annoyed though as i am so careful with where i park my car when im at Tescos etc and this goes and happens at my own flat. Not only that but i do not see why i should have to pay for this when its not my fault, but at the same time it was good of the lady in the flat above to admit what had happened, If it was not for that then it would have been more money coming out of my pocked which i can ill afford at the moment as she is getting the cambelt/water pump done next week plus MOT and i am also getting my door repaired and the same time by Dent devils so all in its going to be an expensive month for me.
Rant over.......
for now!